High Precision Spherical Roller Bearings 23032 24032ca 24132ca
Product Description
Model NO.: 23032 The Number of Rows: Double Material: Bearing Steel Load Direction: None Description: High Precision Spherical Roller Bearings 23032 2 Precison: P0/P5/P6 Sample Order: Accpetable Stock: Rich After Service: Guaranteed Trademark: JPG Origin: Jiangsu Nanjing Rolling Body: Roller Bearings Outer Dimension: Small and Medium-Sized (60-115mm) Spherical: Aligning Bearings Separated: Unseparated Cage: Brass or Steel & Estyle Type: Ea C CD Ca OEM Service: Accpetable Delivery: Timely JPG Bearing: Low Noisy Long Life Specification: depends on order HS Code: 84821090 Brief Description    Spherical roller bearings are double row, self-retaining units comprising solid outer rings with a concave raceway, solid inner rings and barrel rollers with cages. The inner rings with cylindrical or tapered bores. Types EA, C, CD, CA, these are designed for high load capacity, are available. Types EA, C, and CD have pressed steel cages; and type CA has machined brass cages. Type EA has especially high load capacity, features low torque, and has a high-strength cage.       Image  Details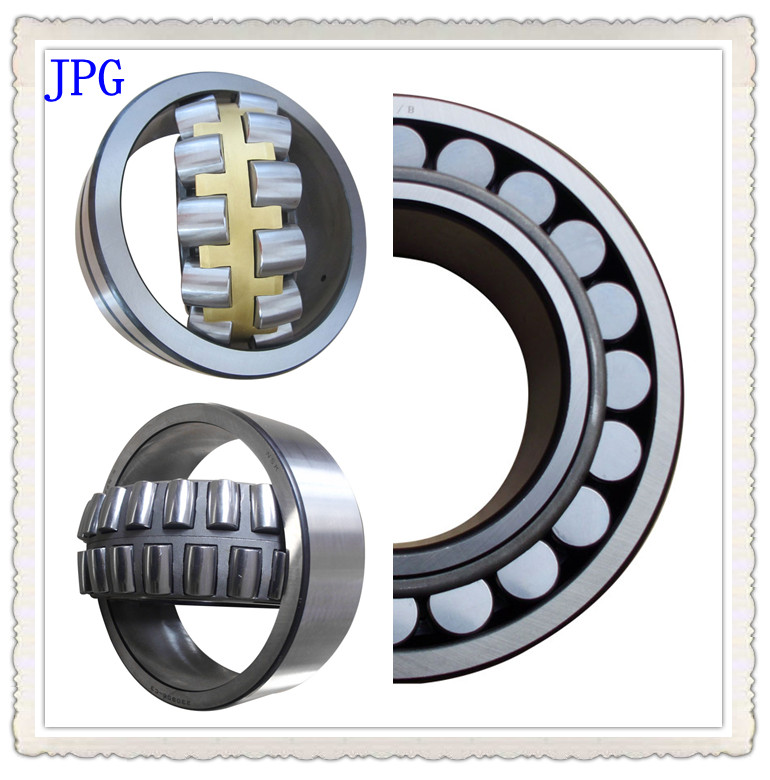 Designation




Principal  Dimension

(kN)
Basic Load Ratings
(r/min)
Speed ratings



Mass

d

D

B

r
min



Dynamic




Static




Grease




Oil

kg

23032

160

240

60

2.1

376

730

1500

1900

13.5

24032CA

160

240

80

2.1

636

1164

1100

1500

12.9

24132CA

160

270

109

2.1

1010

1700

700

900

25.4

22232K

160

290

80

3

805

660

1500

1900

23.5

22232/W33

160

290

80

3

658

1074

1350

1700

22.1

22332

160

340

114

4

1170

1730

800

1000

50.3

23034

170

260

67

2.1

450

900

1400

1800

14.7

23034K/W33

170

260

67

2.1

450

900

1400

1800

14.6

23034CA

170

260

67

2.1

615

580

1600

2000

14.2

24034CA/W33

170

260

90

2.1

810

820

1000

1400

17.8

23134

170

280

88

2.1

875

805

1200

1600

23

23134K/W33

170

280

109

2.1

1050

1020

670

850

24.8

22234

170

310

86

4

730

1230

1100

1500

27.6

23234CA

170

310

110

4

1160

1835

950

1300

37.1

22234CA

170

310

86

4

970

820

1300

1700

26.8

22334K

170

360

120

4

1200

2010

850

1200

59.8

23036

180

280

74

2.1

550

1100

1300

1600

19.5

23036K/W33

180

280

74

2.1

550

1100

1300

1600

19.3

24036

180

280

100

2.1

930

1510

850

1200

22.5

23136

180

300

96

3

700

1340

990

1400

27.1

23136N

180

300

96

3

700

1340

990

1400

26.4

24136CA/W33

180

300

118

3

1170

1130

630

800

33

22236

180

320

86

4

750

1300

1200

1500

28.6

23236CA

180

320

112

4

1250

2060

900

1200

39.6

22236CA/W33

180

320

86

4

1030

880

1300

1700

29.4

22336

180

380

126

4

1430

2210

800

1100

80.7

2638

190

280

67

2.5

542

978

1200

1500

13.7

23038K

190

290

75

2.1

626

1100

1200

1500

20.5

23038CA

190

290

75

2.1

765

735

1300

1700

16.9

24038CA

190

290

100

2.1

980

1000

950

1300

22.8

22238CAK

190

340

92

4

1070

1650

1200

1600

36

23238CA

190

340

120

4

1410

2300

850

1100

51

22338

190

400

132

5

1400

2440

760

1000

80.6

23040

200

310

82

2.1

655

1170

1100

1400

26.2

24040CA

200

310

109

2.1

1130

1170

900

1200

31.3

23140

200

340

112

3

930

1830

850

1200

50.9

24040CA

200

340

112

3

1350

1260

950

1300

43.6

24140CK30

200

340

140

3

1530

2700

560

700

52

22240

200

360

98

4

940

1630

1000

1400

44.7

22240CA/W33

200

360

98

4

1270

1110

1100

1500

44.5

22340K

200

420

138

5

1880

1620

850

1100

96

22340

200

420

138

5

1880

1620

850

1100

96

2644

220

320

76

3

758

1280

1000

1300

21.6

23044

220

340

90

3

960

990

1100

1500

28.8

23044CA

220

340

118

3

1070

1040

1100

1500

32

24044CA

220

340

118

3

1320

1370

850

1100

39

23144

220

370

120

4

1330

1330

900

1200

54.8

23144CA

220

370

120

4

1570

1520

900

1200

54.7

23144K

220

370

120

4

1330

1330

900

1200

54.8

22244

220

400

108

4

1200

2100

850

1200

57.6

23244

220

400

144

4

1800

2820

670

850

94.6

22344/W33

220

460

145

5

1700

3090

670

850

129

23948CA

240

320

60

2.1

635

710

1300

1700

14.9

23048

240

360

92

3

820

1800

900

1200

37.6

23048K/W33

240

360

92

3

820

1800

900

1200

37.4

23148

240

400

128

4

1200

2560

760

990

77.2

24148/W33

240

400

160

4

1200

3300

430

540

81.6

24148CAK30/W33

240

400

160

4

2020

2040

480

600

77.8

22248

240

440

120

4

1490

2370

800

1000

85

23248

240

440

160

4

2200

3460

600

760

128

22348K

240

500

155

5

1780

3140

600

760

154

22348K/W33

240

500

155

5

1780

3140

600

760

153

2650

250

365

87

3

950

1650

880

1100

32.2

23052K

260

400

104

4

1000

2180

810

1080

51.5

24052CA

260

400

1400

4

1780

1910

700

900

66.7

24052CAK/W33

260

400

140

4

1780

1910

700

900

65.2

23152

260

440

144

4

1950

2010

800

1000

92.8

23252CA/W33

260

480

174

5

2780

2660

630

800

147

22352

260

540

165

6

2840

2550

630

800

191.3

23056K

280

420

106

4

1100

2380

760

950

62

24056CA

280

420

140

4

2140

2410

670

850

69.2

23156CA

280

460

146

5

2300

2310

750

950

105

23156

280

460

146

5

1790

3300

670

850

95.5

22236CA/W33

280

500

130

5

2020

1800

750

950

118

23256

280

500

176

5

2470

4550

540

670

153

23256CA

280

500

176

5

2970

2910

600

750

147

22356

280

580

175

6

2680

4490

540

670

238

22356K/W33

280

580

175

6

2680

4490

540

670

238

23960CA/W33

300

420

90

3

1190

1320

950

1300

40.5

23060

300

460

118

4

1430

2740

720

900

75.2

24060CA/W33

300

460

160

4

2280

4600

540

670

101

23060CA/W33

300

460

118

4

1830

1880

800

1000

71.5

23160

300

500

160

5

2180

4030

600

760

134

24160CA/W33

300

500

200

5

3180

6100

324

400

159

22260CA

300

540

140

5

2620

2380

750

950

136

23260CA/W33

300

540

192

5

3300

3250

530

670

190

22260

300

540

140

5

2070

3250

670

850

143

23964K

320

440

90

3

1200

2210

600

750

45.1

23064K

320

480

121

4

1400

2920

720

900

81.5

24064CA

320

480

160

4

2380

2620

700

900

106

23164CAK

320

540

176

5

3150

3200

630

800

195

23264CA

320

580

208

5

3900

3900

500

630

251

23264CAK/W33

320

580

208

5

3900

3900

500

630

251

23968

340

460

90

3

1260

2360

810

1050

50.5

23068K

340

520

133

5

1620

3400

630

810

109

23068/W33

340

520

133

5

1620

3400

630

810

109

23068CA

340

520

133

5

2280

2390

700

900

114

23068CAK

340

520

133

5

2280

2390

700

900

111

24068CAK30

340

520

180

5

2870

3200

530

670

135

24068/W33

340

520

180

5

2436

5060

470

600

160

23972

360

480

90

3

1330

2510

760

990

49.1

23972CA

360

480

90

3

1700

1730

850

1100

46.6

23072

360

540

134

5

1750

3730

600

760

114

23072CA

360

540

134

5

2390

2530

670

850

126

24072CA/W33

360

540

180

5

3010

6350

500

630

148

23172K

360

600

192

5

2400

5350

500

630

222

24172

360

600

243

5

4300

7330

270

340

333

22372

360

750

224

7.5

4180

7500

280

360

494

22372CA

360

750

224

7.5

5400

4900

400

500

466

23976

380

520

106

4

1410

2670

720

900

73.5

23976CA/W33

380

520

106

4

1750

2100

800

1000

69.5

23076K

380

560

135

5

1750

3780

560

720

122

23076CA

380

560

135

5

2440

2690

630

800

130

24176CAK30/W33

380

560

180

5

3050

3550

190

260

153

23176

380

620

194

5

2680

5680

360

450

244

23176CA/W33

380

620

194

5

3900

4100

400

500

248

23176CAK/W33

380

620

194

5

3900

4100

400

500

241

23980CA/W33

400

540

106

4

1790

2160

750

950

72.4

2680

400

590

142

6

2290

4420

340

530

145

23080

400

600

148

5

2100

4570

540

670

165

23080CA

400

600

148

5

2820

3000

600

750

158

24080CA/W33

400

600

200

5

2840

3050

450

560

202

23180

400

650

200

6

3060

6670

340

430

239

23180CA

400

650

200

6

4100

4300

380

480

272

23280

400

720

256

6

5750

8420

310

390

530

22380

400

820

243

7.5

4650

8960

240

320

650

23084

420

620

150

5

2320

4570

400

500

159

23084CA

420

620

150

5

2970

3300

450

560

149

23184/W33

420

700

224

6

4170

8100

320

400

402

23284CA

420

760

272

7.5

6140

11250

320

400

659

23088

440

650

157

6

2450

5120

390

480

192

23188

440

720

226

6

4910

8710

310

390

420

23188/W33

440

720

226

6

4910

8710

310

390

419

23092

460

680

163

6

2520

5880

360

450

223

23092CA

460

680

163

6

3550

3850

400

500

226

23192CA

460

760

240

7.5

5750

6200

320

400

457

23192CAK/W33

460

760

240

7.5

5750

6200

320

400

452

23996

480

650

128

5

2240

4730

360

450

162

23096

480

700

165

6

2500

5730

340

430

231

23196CAK/W33

480

790

248

7.5

6150

6700

300

380

485

23296

480

870

310

7.5

6900

11500

230

310

837

239/500

500

670

128

5

2100

5020

360

450

135

239/500CA

500

670

128

5

2570

3200

400

500

120

230/500

500

720

167

6

3050

6400

340

430

238

230/500/W33

500

720

167

6

3050

6400

340

430

238
        Company Information        JPG Bearing . is a professional production of automotive wheel hub bearing, tensioner pulley bearing,
Deep Groove Ball Bearing
,
Taper Roller Bearing
, automotive air-conditioner bearing and all kinds of NON-standard bearing.    Factory Show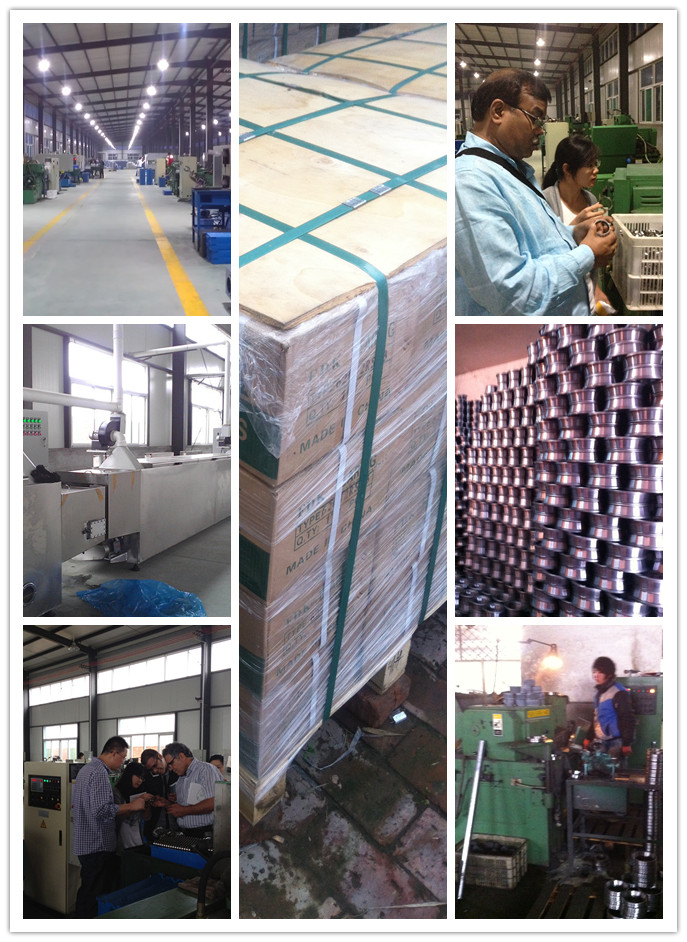 Packaging: 1. Neutral Package: Plastic Bag + Carton + Pallet;
2. Commercial Package: Plastic Bag + Box + Carton + Pallet;
3. As the clients' requirement.   Delivery: 1. Less than 1000 pcs , we will send by express. ( Door to Door, Convenient ),    or by  air transport. ( Fastest and safest, but expensive ) 2. More than 1000pcs , we will send by sea. ( Cheapest, safe )   Payment: 1. Less than 1000 pcs , 100% T/T, Western Union in advance.  2. Between 1000-10000pcs, TT, Western Union, MoneyGram. 3. More than 10000pcs , TT, L/C ,Western Union, MoneyGram. More information All of our bearings are qualified and manufactured as Chinese Bearing Industry Standard (GB/T 307.2-1995). Any bearing sold has a warranty from us. To improve our products and service greatly, any feedback of bearings, package, delivery etc would be highly appreciated In case of any bearing problem, which is caused by bearing quality, package etc, we would like to replace the bearings. Any other question, feel free to contact us by email.   Dealing Process:              Send us inqry---------Quotation-----------Confirmation for all information----------Proforma Invoice-------------Payment-----------Shipping goods and documents.          
Contact us if you need more details on Bearing. We are ready to answer your questions on packaging, logistics, certification or any other aspects about Roller Bearings、
Spherical Roller Bearing
. If these products fail to match your need, please contact us and we would like to provide relevant information.
Product Categories : Spherical Roller Bearing