Detailed Technical Information for Slewing Ring Bearing (HJB. 30.880)
Product Description
Model NO.: HJB. 30.880 Structure: Ball/Roller Bearing Trademark: LYHY Origin: China Size: 100mm-6600mm Warranty Period: 1 Year Specification: ISO9001: 2008 HS Code: 8482109000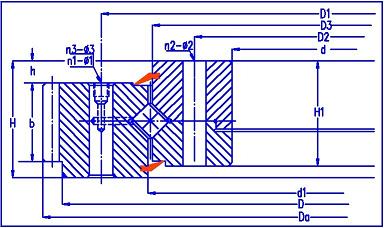 1. Introduction of LYHY
Slewing Bearings
LYHY is a professional manufacturer in
Slewing Ring Bearings
since 1993. We can also design and make other standard and non-standard ball bearings, roller bearings and precision bearings as per customer's different technical requirements.
Slewing Bearing
is also called slewing ring, slewing ring bearing, turntable bearing, and rotary bearing.
Slewing ring bearing is a bearing that able to bear axial load, radial load and overturning torque. Under normal circumstances, slewing rings have their own mounting holes, lubricant holes and seal holes, to meet the different needs of the various host working under the various conditions;
On the other hand, slewing bearing itself has characteristics of compact structure, guide rotating convenient, easy to install and maintaining easily.
LYHY slewing ring bearings are usually used for low revolution while shaking and strained with an enormous axial force, moment and in some parts with radial force simultaneously.
Consequently the requirements for loading are stricter than ordinary bearings. If the selection of the slewing ring bearing has been wrong it will cause a great damage. Hence it is necessary to evaluate the exact forces acting on the slewing ring bearing and to select the suitable slewing ring bearings. 
2. Structure
2.1 Slewing ring bearings have different types as per different structures:
Single row ball slewing bearings
Double row ball slewing bearings
Crossed roller slewing bearings
Triple row roller slewing bearings
Flange slewing bearings
2.2 The above slewing ring bearings can also be divided into three different types as per different transmissions:
Slewing ring bearings with no gear
Slewing ring bearings with external gear
Slewing ring bearings with internal gear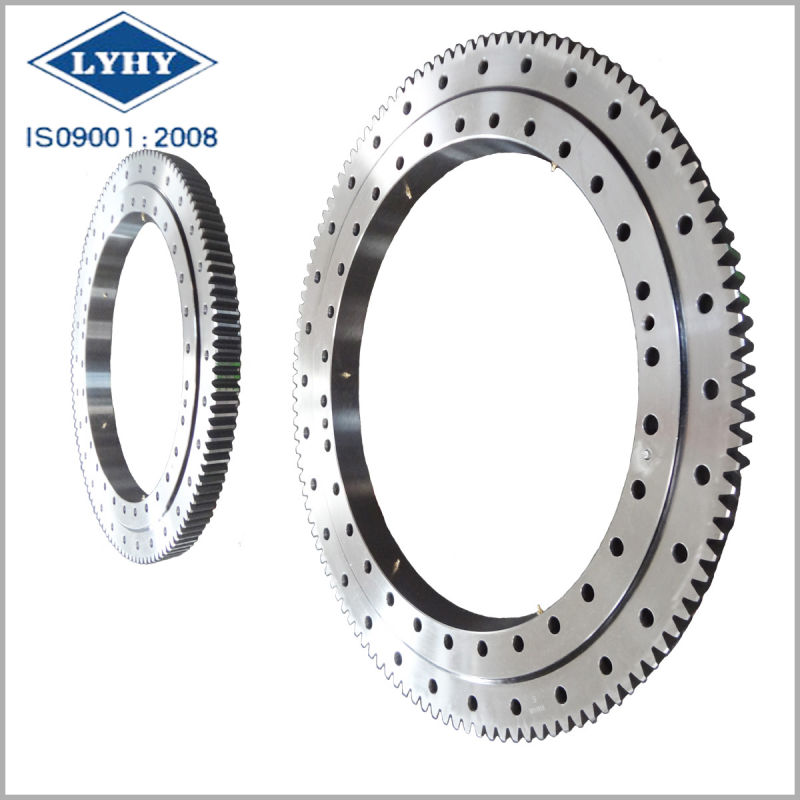 3. Features:
Slewing ring bearings have more features: compact structure, reliable guide, simple installation, and easily maintenance 
4. Application:
Slewing ring bearings can be widely used in lifting & transport machinery, mining machinery, construction machinery, port hoisting machinery, port oil transfer equipment, onshore and offshore crane, excavator, concrete machine, paper machine, plastic and rubber machine, weave machine, steel plant, electronic power plant, wind power generator, other construction and industry machines or equipments and other large rotary device.
  HJB.20.625, HJW.20.625, HJN.20.625, HJW.20.625A, HJN.20.625A,
HJB.20.720, HJW.20.720, HJN.20.720, HJW.20.720A, HJN.20.720A,
HJB.30.820, HJW.30.820, HJN.30.820, HJW.30.820A, HJN.30.820A,
HJB.30. 880, HJW.30.880, HJN.30.880, HJW.30.880A, HJN.30.880A,
HJB.30. 1020, HJW.30.1020, HJN.30.1020, HJW.30.1020A, HJN.30.1020A,
HJB.36. 1220, HJW.36.1220, HJN.36.1220, HJW.36.1220A, HJN.36.1220A,
HJB.36. 1250, HJW.36.1250, HJN.36.1250, HJW.36.1250A, HJN.36.1250A,
HJB.36. 1435, HJW.36.1435, HJN.36.1435, HJW.36.1435A, HJN.36.1435A,
HJB.45.1540, HJW.45.1540, HJN.45.1540, HJW.45.1540A, HJN.45.1540A,
HJB.45. 1700, HJW.45.1700, HJN.45.1700, HJW.45.1700A, HJN.45.1700A,
HJB.45. 1880, HJW.45.1880, HJN.45.1880, HJW.45.1880A, HJN.45.1880A,
HJB.45. 2115, HJW.45.2115, HJN.45.2115, HJW.45.2115A, HJN.45.2115A,
HJB.45. 2370, HJW.45.2370, HJN.45.2370, HJW.45.2370A, HJN.45.2370A,
HJB.45. 2600, HJW.45.2600, HJN.45.2600, HJW.45.2600A, HJN.45.2600A,
HJB.50. 2820, HJW.50.2820, HJN.50.2820, HJW.50.2820A, HJN.50.2820A,
HJB.50.3120, HJW.50.3120, HJN.50.3120, HJW.50.3120A, HJN.50.3120A,
HJB.50. 3580, HJW.50.3580, HJN.50.3580, HJW.50.3580A, HJN.50.3580A,
HJB.50.4030, HJW.50.4030, HJN.50.4030, HJW.50.4030A, HJN.50.4030A,
HJB.50. 4540, HJW.50.4540, HJN.50.4540, HJW.50.4540A, HJN.50.4540A

Contact us if you need more details on Ring Bearings. We are ready to answer your questions on packaging, logistics, certification or any other aspects about Slewing Bearings、Slewing Rings. If these products fail to match your need, please contact us and we would like to provide relevant information.
Product Categories : Slewing Bearing > Others Slewing Bearing